De Vinci: The Genius
claims it's a early diving suit, but I'm pretty sure it was actually for sucking out children's souls.
Here's something fun! This is a modern recreation of a suit Leonardo de Vinci designed. The traveling exhibit
Some time ago, I wrote a post about the
Cross Bones Graveyard in London
. It was a cemetery for prostitutes, the poor, and plague victims. Some 15,000 people were buried in Cross Bones, often in mass, unmarked graves, before it was finally closed in 1853.
Cross Bones was largely forgotten for 100 years. Then, in the 1990s, some of the graves were unearthed up during the creation of the London Underground's Jubilee Line. Locals adopted the graveyard, creating a ramshackle memorial for the "outcast dead."
Recently,
the Bankside Open Spaces Trust took over the preservation of the graveyard
. Working with the community living around Cross Bones, they've developed a plan to turn it into a memorial garden.
Our vision together is for a garden led by local people, that shows respect to the outcast dead who are buried beneath, and provides a sensitive contemplative environment for all who would spend time here.

To create the garden, we are beginning  to carefully cover and protect the remains of the dead, and build drystone wall beds to create a raised garden for all those who would like to contemplate life in a green environment.
BOST recently launched a
crowdfunding campaign
to raise money for the project. I'm donating money in the memory of Susie,
an old friend who passed away last year
. Susie loved cemeteries. She loved outcasts and misfits too. She would have loved being part of BOST's plan to celebrate both, and I'm glad that, through me, she still can be.
Despite living in Alabama my whole life and being a lover of spooky stories almost as long, I'd never heard the legend of Railroad Bill until last week. I discovered his story in
A Treasury of Southern Folklore
, edited by B. A. Botkin.
White folks say Railroad Bill's real name was Morris Slater. But black boys and girls who tell stories and sing songs about him have never known him by any other name than Railroad Bill. Whatever his name was, he lived and still lives, they say, in the Alabama woods near the roadbed of the Louisville and Nashville Railroad. Sometimes when a poor old black woman wakes up in the morning and opens the door of her cabin, she finds a neat little pile of canned goods on the step. There may be a couple of cans of soup, a can of snap beans, perhaps some black-eyed peas.

God bless Railroad Bill," says the old woman, and she hurries to put the cans out of sight. She knows that Railroad Bill has taken those cans from the fright car on the L & N tracks, and she knows she will be fed.

For many years now Railroad Bill has been stealing cans of food from the fright cars and sharing them with the poor black folks he knows. The railroad men and the police have tried to catch him for a long time. All the black folks know why the chasers can't come up with him. Once the sheriff of Escambia County and all his men started out after him. They ran very fast ,and they were getting close to Railroad Bill. As they raced through a little clearing in the woods, they saw a black sheep standing there watching them run. They didn't realize until long afterwards that the little clearing was a strange place for a black sheep to be. Some of them don't believe to this day that the black sheep was Railroad Bill, but it was.

Another time the sheriff was out after Railroad Bill, all his officers took a train to a lonesome place where they thought he was hiding. But Bill was in the car behind them all the time, and when they got off the train and went looking for him, he just stayed on and collected a lot of canned goods that he gave away all over Escambia County that night.

When that story got out all the people in the county laughed at the sheriff and that made him mighty mad. So he schemed as hard as he could to catch Railroad Bill. One day he was sure he had him. He followed Bill's tracks through the swamp, and by and by, he came to a little clearing, and no tracks left from there. So the sheriff decided Railroad Bill must be hiding under the low bushes in the clearing and he began looking around. Pretty soon he started a little red fox that lit out through the woods. The sheriff let go with both barrels of his shotgun, but he missed. After the second shot, the little red fox turned about and laughed at him a high, wild, hearty laugh--and the sheriff recognized it. That little fox was Railroad Bill.

The time that made the sheriff maddest, though, was when Railroad Bill chased himself to his best girl's house. The sheriff heard Bill had been courtin' a good-looking black girl over by Piney Grove. So he got some bloodhounds from Bon Gant over in Mississippi and he gave them a scent from one of Bill's old hats that he had dropped when he was running away, and sure enough the dogs started to follow a track right straight for Piney Grove.

By and by the sheriff said, "Did we get three dogs from Bob Gant or four?"

Nobody seemed to be able to remember, but there were four dogs on the trail, and one of them was a black bloodhound.

When they got to the cabin of Bill's best girl, the sheriff saw her on the porch and asked her if she'd seen Bill. She said, No, she hadn't for sure. The dogs seemed to want to go on, and so the sheriff and his men followed them. But now when they sheriff looked there were only three bloodhounds on the trail. The black one was gone. When the sheriff got home all tired out and took the dogs back to Mississippi, Bob Gant told him her had rented him just three dogs. The sheriff never did know that the black hound was really Railroad Bill who had chased himself all the way out to his girl's house and had stayed behind to do some courtin' when the sheriff left.
While Railroad Bill's ability to transform remains in doubt (as well as his real name), the legend is based on a real outlaw living in the swampy border region between Alabama and Florida around the turn of the century.
The Encyclopedia of Alabama has an article on him
, which includes his bloody end.
By the summer of 1895, the L&N Railroad, the state of Alabama, the state of Florida, the town of Brewton, and Escambia County had pooled together a reward of $1,250 for Railroad Bill's capture. A host of bounty hunters from places as far away as Texas and Indiana descended on southwestern Alabama and the western swamps of Florida. They were joined by operatives of the Pinkerton National Detective Agency, L&N detectives, lawmen, and vigilante posses. . . . By August 2, the Montgomery Daily Advertiser was reporting that those hunting the fugitive had become a "small army" numbering "at least one hundred men here loaded for bear."

The hunt for Railroad Bill persisted until March 7, 1896, when a man was gunned down by a host of law enforcement officials at Tidmore and Ward's General Store in Atmore, a depot town along the L&N . . . . Souvenir hunters paid 50 cents for a picture of Constable J. L. McGowan, believed to have fired the fatal shot, standing, rifle in hand, over the corpse of Railroad Bill strapped to a wooden plank. After a few days in Brewton, the body was taken by train to Montgomery and later to Pensacola, Florida, for public display. So many people came to see Railroad Bill in Montgomery that authorities charged an admission fee of 25 cents. His body's final resting place is unknown.
In the decades after Railroad Bill's death, several songs were written to celebrate his exploits, including this one recorded by Blind Boy Paxton:
And here's a a great punk version of the same song, performed live by The Gun Club:
Sometimes, I like used books more than new ones. I love finding the traces of previous readers left between the pages: old receipts and ticket stubs used as bookmarks, the inscriptions and marginalia, bookplates and library stamps. I'm not the only one who's fascinated by these hints of books' previous lives. In fact, there's a blog solely dedicated to
things found inside used books
.
This is small history, ordinary scraps of ordinary lives. Still, I feel a connection with somebody who's read the same book as me. Not just read the same work, but actually held the same book I've held, turned the same pages I've turned, defined "expurgated" in the margin of
Catch-22
so I didn't have to look it up.
This Christmas, my brother and sister-in-law gave me an antique copy of
Doctor Faustus
, printed in 1932.
Doctor Faustus
is one of my favorite plays; I alluded to it extensively in my first novel. The dust jacket was in tatters, but other than that, it's a remarkably well-kept copy... supple white pages, crisp dark ink, and very few hints as to where it's been over the past 82 years. In fact the only marking was "Clark V. Poling 3/6/34" written on the front end-paper.
A few days after the new year, I got around to repairing the book's dust jacket. (I have a roll of acid-free archivist's tape, mainly to patch together old comics. I'm a pretty miserable book repairer, but I can usually keep damage from getting any worse.) As I was fixing the book up, I started wondering who Clark V. Poling might have been and decided to Google him, thinking maybe I'd be able to find a obituary or some fragment of him online.
Instead, the
top result was a Wikipedia entry
:
Clark Vandersall Poling (August 7, 1910 – February 3, 1943) was a minister in the Reformed Church in America and a lieutenant in the United States Army. He was one of the Four Chaplains who gave their lives to save other soldiers during the sinking of the USAT Dorchester during World War II.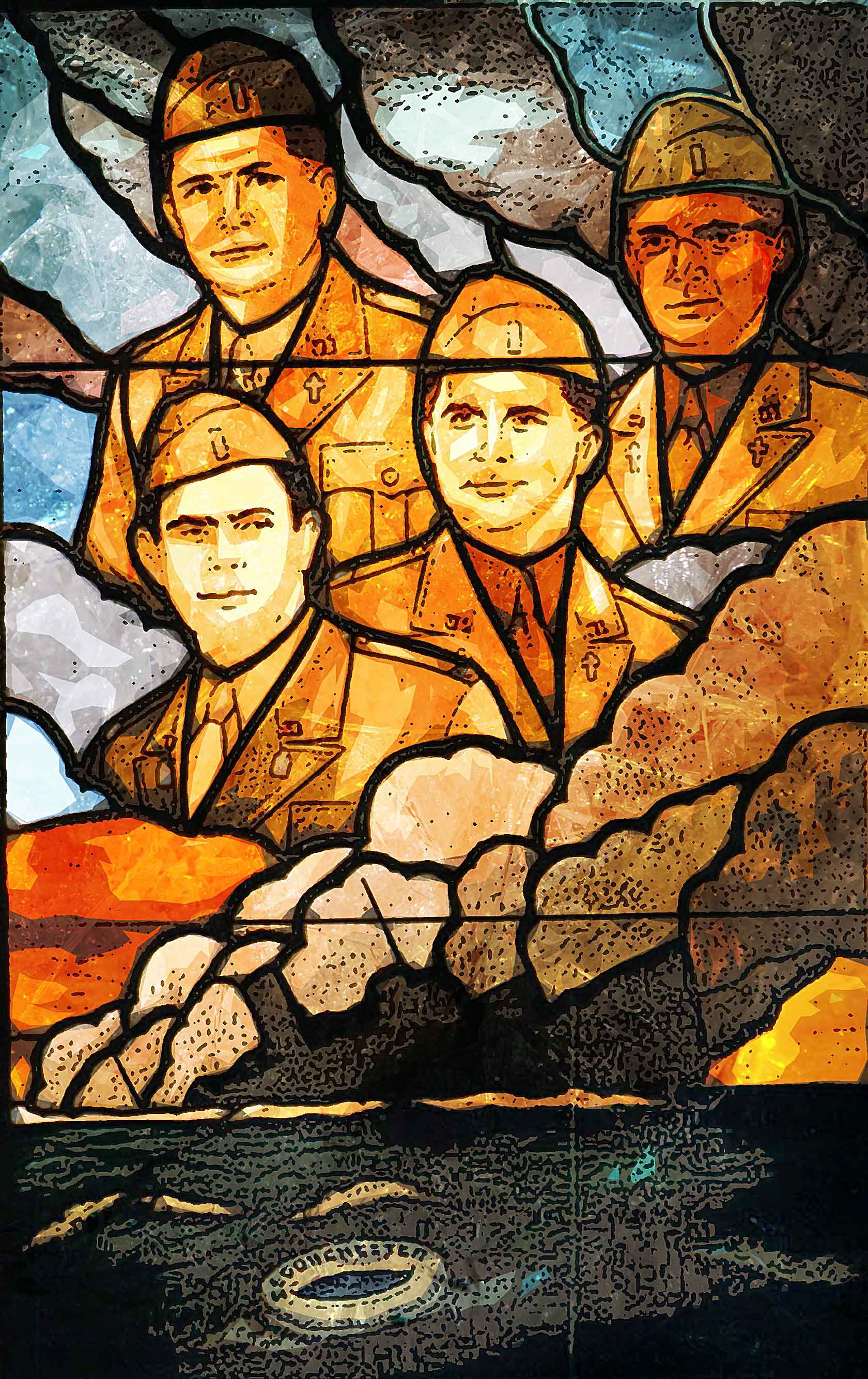 Poling was one of four chaplains aboard a transport ship that was attacked by a German U-boat. They helped calm the panicked soldiers and distribute life-jackets, eventually handing the life-jackets they themselves wore to other men. As the Dochester sank, the four chaplains joined hands on deck and prayed with the other men unable to escape.
209 men survived the sinking of the Dorchester, but more than 600 died. Still, the "Four Immortal Chaplains'" spontaneous act of self-sacrifice gave the tragedy a thread of hope. The fact that all four chaplains were from different faiths--but died working together to save their comrades--gave the story a special poignancy during World War II. At the dedication of the
Four Chaplins Shrine
in 1951, President Truman said, "This interfaith shrine...will stand through long generations to teach Americans that as men can die heroically as brothers so should they live together in mutual faith and goodwill."
Right now, I'm trying to track down Clark V. Poling's signature--either on a letter or legal document--to compare to the one written in my book. But even though I'm not 100% positive, it seems very likely that this book belonged to him. "Clark V. Poling" can't be that common a name, and also, in 1934, the future chaplain Clark V. Poling was a 23-year-old seminary student at Yale.
Doctor Faustus
seems like the sort of thing he would read.
I wonder if it was assigned in class or something he picked up on his own. I wonder if he liked it. As he held the same book I've held, turned the same pages I've turned, I wonder if he began cataloging his own temptations and sins like I have. More than anything, as Doctor Faustus last night on earth approaches and he begs the sun, "Fair Nature's eye, rise, rise again, and make perpetual day; or let this hour be but a year, a month, a week, a natural day," I wonder if Clark Poling had any inclination of how freely he would give his own life away.
I'll never know any of that. This is small history, an ordinary scrap of an extraordinary life.
When I was in high school, it got torn down. My dad kept a brick from the house in our sun room for awhile after that, but eventually that vanished too.
This house was my Hogwarts, my TARDIS, my wardrobe leading to Narnia. I still dream about it all the time.
This is my grandmother's house in Evansville, Indiana. It was large but still crowded with eleven kids living there. By the time I came around, it was old and creaky and wonderful, filled with cousins and food. It seemed like, every time I came to visit, I stumbled on a new closet or basement nook I'd never been in before.
Susie always had a bit of a goulish edge. She was the girl that introduced me to Rocky Horror Picture Show and
Vampire: The Masquerade
Back when we nothing but time, we'd drive out to
Maple Hill Cemetery
, touring the old gravestones and lichen-tumored angels. We'd read the epitaphs, "beloved mother…," "always remembered…," and marvel at the long-ago dates. Back then, death felt like something distant and strange, like Antarctica.
Then Susie died last summer. She's the first person I was really friends with who's died, the first person who I'd grown up and learned things with and who's dead now.
The other night, driving back from a party, I started thinking about Susie and wishing she was still around. Getting home, I poured myself a drink and logged onto Facebook.
Facebook, of course, doesn't realize Susie's dead. Her page is just like she left it. There's tons of photos, Susie dressed as a pirate, Susie at her brother's wedding, Susie hamming it up in a prom photo while everybody around her is trying to look serious and grown up. Occasionally, the page even updates as people tag her in old photos. Other times, people write on her wall, "Missed you today…," "Thinking about you…"
But my favorite part of her echoing page was the banner across the top. It's a picture of Neil Patrick Harris looking flashy and the quote, "When I'm sad, I stop being sad and be awesome instead." That made me chortle for a good five minutes, because it felt like Susie was speaking directly to me, like she knew exactly what I was feeling at that moment. Susie put that picture up as her banner last October, around the time she'd posted the photo of her in the hospital bed with Jack Skeleton and a little witch's hat. I decided it was damn good advice and resolved to follow it the best I could.
Susie donated her body to science. She doesn't have a grave or epitaph like the ones we used to read at Maple Hill years ago. But as long as her Facebook stays up, I don't think she really needs one. Those pictures and words tell you a lot more about who she was than any cold, half-forgotten stone ever could.
My friend died last June after a long, shitty fight with cancer. Susie and I had drifted apart since high school, but we still kept in touch on Facebook and I always loved how wonderful and weird and geeky she could be. One of the last photos of her is from Halloween. It shows her in her hospital bed, emaciated, posing with a Jack Skeleton pillow and a tiny witches hat.
After he died of stomach cancer in 1964, his landlord opened up a garage Hampton had been renting for the past 14 years. Inside, he found something amazing: a collection of thrones, altars, and crowns... a glittering throne room assembled from discarded items and gold foil.
The landlord also found some of Hampton's papers. In them, Hampton claimed spiritual visions, where God directed him to build what he called
Throne of the Third Heaven of the Nations' Millennium General Assembly
in preparation for Jesus's imminent return to Earth. The central piece is a throne (made from a scavenged easy chair) with the words FEAR NOT written above it. Other pieces--crowns, wall tablets, and mercy seats--are inscribed with verses from Revelations. In his papers, Hampton refers to himself by the name "Saint James."
The throne is currently on display in the Smithsonian American Art Museum (although there's a legitimate question as to whether James Hampton considered himself an artist or not.) Over the past week or so, I've grown obsessed with it, the same way I became obsessed with the work of another outsider artist,
Henry Darger
, a few years back. What fascinates me about both of these men is the tension between their mundane exterior lives and luminescent interior lives, their conviction that, despite all appearances, they had been selected for something vast and vital.
I do not believe that God ever spoke to James Hampton, but at the same time, I can't laugh at him for believing it himself. In some very real ways, I envy him.
Born in 1909 in South Carolina, James Hampton was a deeply religious man who worked most of his life as a janitor in Washington D.C. He never married and had few friends, and never made much of an impression on those few people who knew him.


Then something completely unexpected happened.

I got a job.

Since late October, I've been a long-term substitute at Lee High School in Huntsville. It's a tough school, but I'm also surrounded by some of the most dedicated, helpful teachers and staff I've ever met. In short, if I really want to learn how to teach, Lee is exactly where I need to be.

Of course, the downside is that I've had to push a lot of stuff aside. Writing is a big one; I've only written about 4000 words in November. I also had to quit my cozy little job at the library. (Despite having to quit on short notice, everybody there was really supportive. The director even tried to find me a place to stay in Huntsville so I wouldn't have to drive so far every day. I'm going to miss working there.)

Still, I planned on getting a full time teaching job eventually and still making time to write, so now I must put my time management skills to the test. (Never been my best quality.) I knew going in that NaNoWriMo and November would be a bust, but now that I've got my sea legs under me so to speak, I'm hoping for a much better December.
As November approached, I was gearing up to really take part in NaNoWriMo or the first time. I had a novel that was half-finished, and NaNoWriMo seemed like the perfect push I'd need to complete it.
a great history of the Grand Guignol
, a theater in Paris that specialized in gory, brutal plays.
Le Laboratoire des Hallucinations
, by André de Lorde [is] about a doctor who finds his wife's lover in his operating room and performs a graphic brain surgery rendering the adulterer a hallucinating semi-zombie. In turn, the lover/patient hammers a chisel into the doctor's brain.
The article includes a treasure trove of photos of the theater (built inside an old church) along with posters for several of their plays.
Messy Nessy, maybe my favorite blog about the odd and esoteric, has
The Bridge
. When she was a kid, the main character, Detective Sonya Cross, witnessed her sister's murder and was adopted by police officer Hank Wade.
Years later, recounting living with Wade and his wife, Sonya says they only had one real rule for her: every morning she had to get up and make the bed. There's a brilliant simplicity to that. When you're depressed, you're going to feel like a failure a lot of the time. You're going to
fail
a lot of the time. But you still have to get up and face the day, every day. That becomes even more important than during times when you're happy.
For the past several months, since the beginning of summer, really, things have felt like they're falling apart. I'm still searching for a decent-paying day job,
The Drowned Forest
isn't selling nearly as well as I'd hoped, and there's some personal stuff I'd rather not get into. The cumulative effect is that I've barely written at all since early summer.
I'm about 10,000 words from completing my steampunk novel, but I just can't do it. I keep putting off writing, telling myself I'll do it later in the evening, or the next day, or during the weekend. When I do sit down to write, I get distracted within five minutes.
Its not just writing. I can't read more than a few pages at a time. I'll sit down to watch a movie, then look up an hour in and have no idea what's happening. But not being able to write, that's what hurts the most. That's what makes me most want to just stay in bed and not even try anymore.
But recently, I've been trying to get back into the groove of writing. I've started a semi-regular coffee klatch/writing group with a few friends. (Through that, I managed to finish and submit a story for
Apex Magazine's Stealing the Spotlight Contest
.) I've also made up my own "every day" rule. Namely, every day, I have to write one page. Just one lousy page. That's all I ask of myself, but I
have
to do it, no excuses.
Somedays, I knock it out in a few minutes. Somedays, it's amazing how exhausting it is to write one page. But so far--more often than not--I've managed it.
Now if I can just keep it up. And maybe increase it to two pages every day, three pages every day, I can finally start making slow-but-steady process toward the end of this book.
One of the best pieces of advice I've heard about depression came from the cop procedural